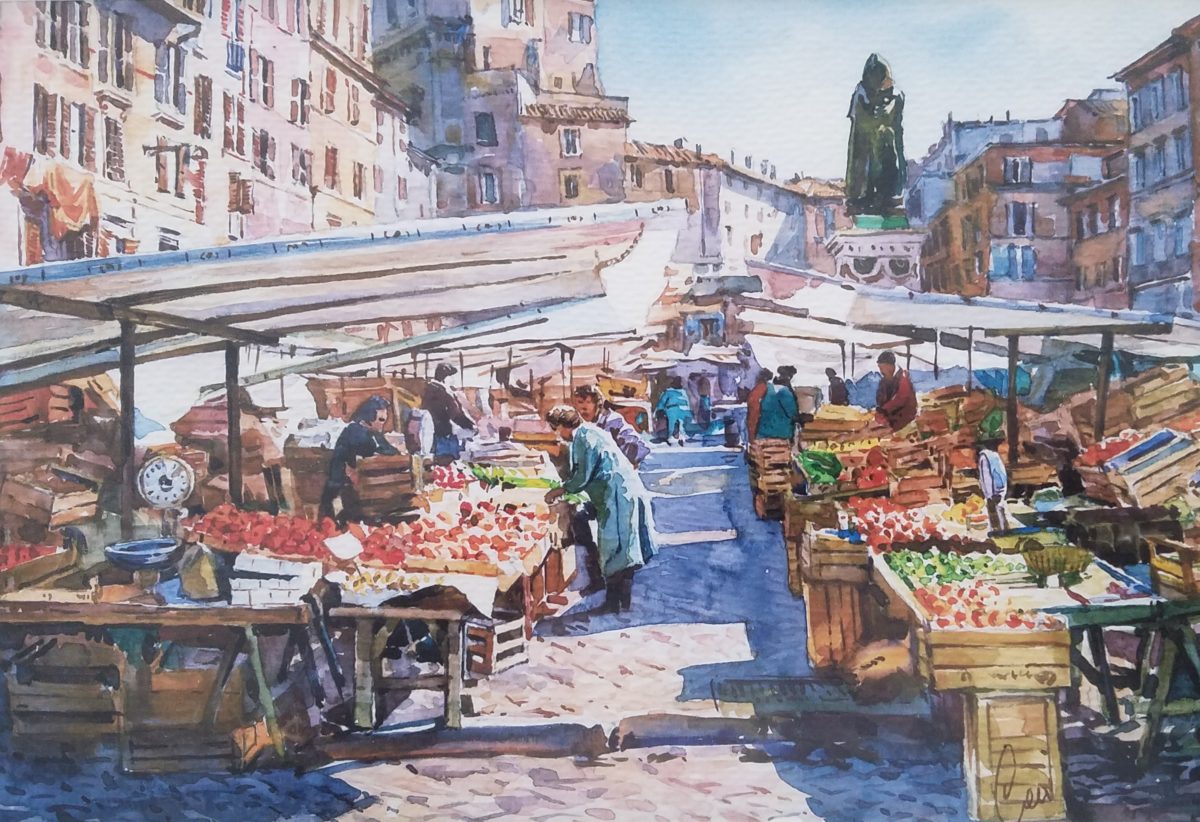 If you've already learned and practiced Italian 1 For Travel, you'll be ready to tackle the next 12 Italian essentials.
These are words and phrases that'll help you ask "Where …" questions – if you're looking for the bathroom, a pharmacy, the next bus stop, the next subway station, or the railway station, a bank , an ATM, or the Tourist Information.
And being in Italy, you may also want to know where you could find today's open-air market.
The Next 12 Phrases: Where is…?
Learn and Practice Tips
Click the black arrow to hear the Italian speaker.
Click the red dot once to record yourself, click the black square to stop recording.
When you click the black arrow again, you'll hear the native speaker and then yourself.
Do it several times until you sound like the Italian speaker
Then "Choose a Study Mode" and test yourself with one of the Quizlet games! (You may need to adjust your Options with the top right icon .)
Getting around in Rome
Rome is a wonderful city to walk. But there's also a good, user-friendly transport system for getting around. Figuring out what to take to get where you want to go can be part of the fun and adventure of visiting an interesting city like Rome.
Rome's Subway (Metropolitana) has 3 lines only (A, B, and C), which cross the city diagonally. By metro you can get to many of the city's top attractions.
The network of Bus lines is much more extensive: 338 day buses and 22 night buses. By bus you can reach almost any part of the city.
In addition, Rome has 6 Tram lines, but these don't go to the city center or the main tourist stops. The one line we frequented during our stay in Rome was Line 8, which connects Torre Argentina and Trastevere. (We had rented an apartment in the old Trastevere district.)
To go to the Fiumicino Airport (it's official name now is "Leonardo da Vinci Airport"), you can take the Leonardo Express train (14 euros in 2019) from the Termini Railway Station. There's also a bus service, which is cheaper, but takes longer.
Rome's other airport, Ciampino Airport, is used by many of Europe's discount airlines. More info about how to get to both airports from the City you'll find here.
There's also Rome's Urban Railway (Ferrovie Urbane) with 3 lines. The Rome-Lido line takes you to Ostia Antica.
Rome Vacation Tips has a good summary of Rome's public transport options.
Pickpockets on Busline 64?
Every guide book about Rome will warn you about pickpockets. We never became a victim ourselves during our five months in Rome. However, they indeed do exist.
I once prevented such an incident in the crowded bus #64, which goes from the Termini Station to the Vatican: When I saw a man trying to slide his hand in the back pocket of the man standing beside him, I gently took hold of his arm and pulled it away. The pocket picker quickly slipped away as the victim turned around with a questioning look. At that time my Italian was not good enough to explain, and I just smiled.

"Where…?"-Questions Answered…
Asking "Where"- questions in Italian may let the person you are asking assume that you speak Italian.
The result will often be an answer and a stream of words you'll probably not understand.
It would therefore be good to know some basic directional words and phrases in Italian – left, right, straight ahead, etc., and a way to say: "Please speak more slowly."
So check out Italian 3 For Travel and learn some of the possible answers..