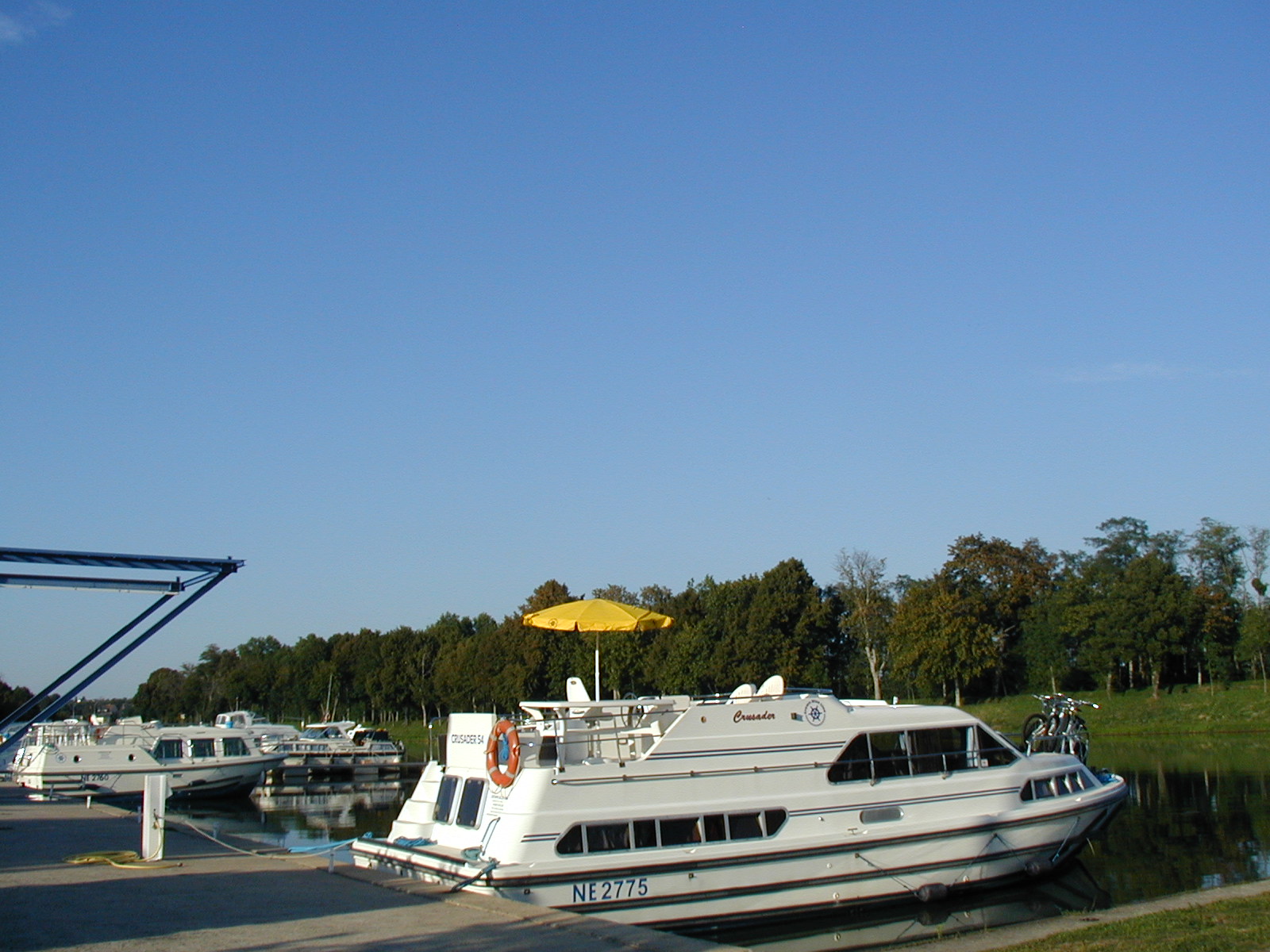 Chartering a canal boat in Europe has become possible again, now in late summer 2021. But if you haven't yet made arrangements for this year, you'll soon be running out of time. You may rather want to plan for next year.
We have had wonderful weeks in France and the Netherlands into late September, but October can already be wet and cold in many areas. (Picture above: Our Canal boat in Decize, France, ready to board)
November may work in Portugal, Italy or southern France for hearty mariners, but not in the northern latitudes. And in any case, for most charter companies the season ends on October 31.
A friend's recent experience in France reminded me that there are a few things you should consider when selecting a canal boat. He chartered a boat in France on the Canal de Bourgogne in early August. Unfortunately, the weather was unseasonably rainy. And while he, his wife and young daughter still had a good time on their "penichette" (small barge), a different boat may well have added to his own enjoyment (see below in "Chartering Choices").
Where to Charter a Canal Boat?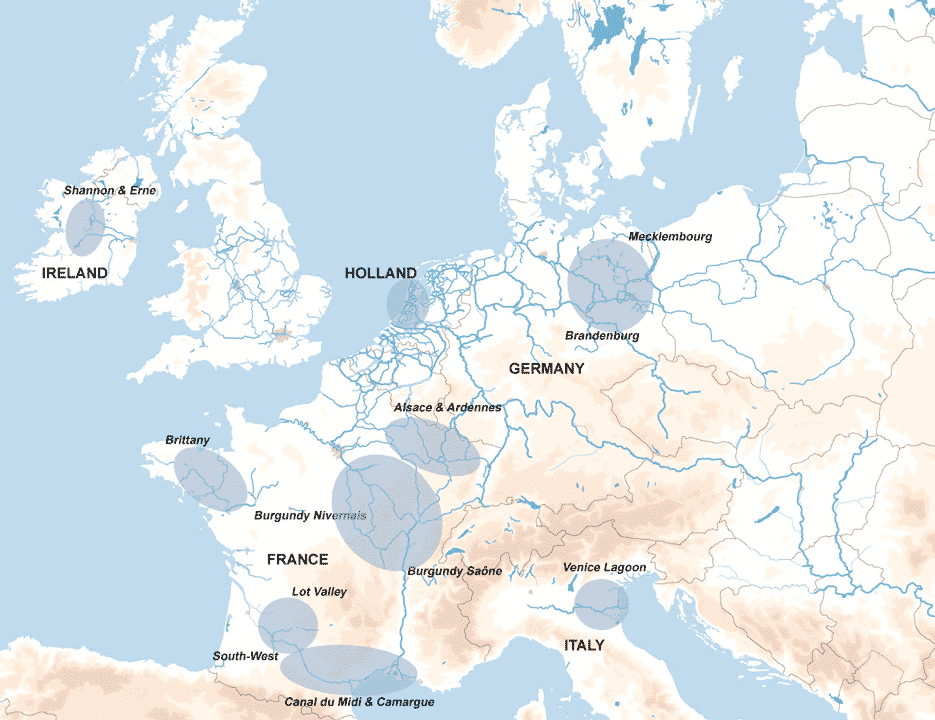 To date, we have chartered canal boats only in France and the Netherlands. But we have looked into other locations as well.
Indeed, in addition to these two countries, which both have an extensive river and canal network, there are other European countries where you can easily charter a canal boat. These include England, Scotland and Ireland, as well as Belgium, Italy, Portugal and Germany.
(I only mention these as they are serviced by the major charter companies. For other countries, e.g. Poland, Czechia, Russia, Norway, Sweden, etc. you'd have to find local contacts.)
By the way, I just saw on the Le Boat site that they now have boats available for cruising the Rideau Canal in Canada, running from Kingston to Ottawa.
And seriously, if you're interested in piloting (or even buying) your own boat in Europe, eurocanals.com is a wonderful site that lets you explore the canal cruising possibilities in Europe.
Our own choices for chartering a canal boat have had a lot to do with timing and coordination with other activities (for example, our annual family reunion in the Netherlands). We still have plans for England, Scotland, Ireland, as well as Portugal and Germany.
One question that always arises is whether you need a permit. As far as we know, none of the above countries, except Germany, requires a permit on certain canals. The charter company will typically provide you with the necessary boat-handling instructions.
The choice of the country may be easier if you are a seasoned mariner and/or speak the country's language. For English speakers this makes the English speaking countries certainly first choices.
The Netherlands may be easier for first-time boaters, both because there are few locks. Plus, most Dutch people speak excellent English.
Canal Boat Chartering Choices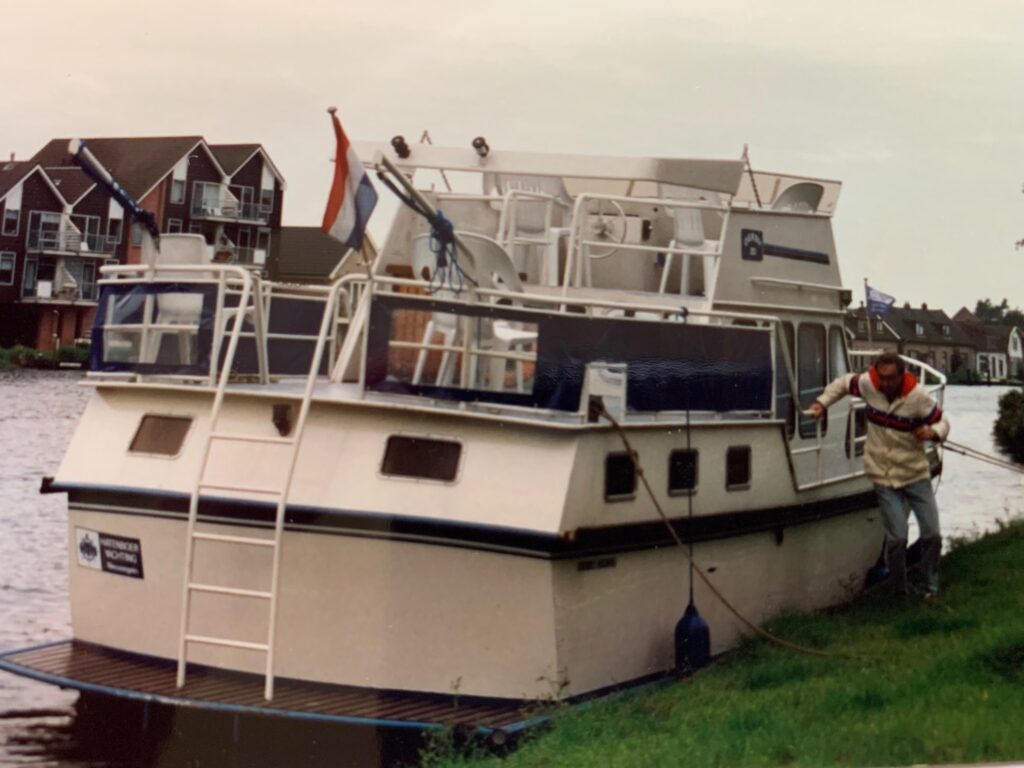 Our first charter happened about twenty years ago, when boat choices and itineraries were not available on charter company websites the way they are today. From a Dutch brochure we had selected a 42 ft trawler type boat (see above) which measured over 3.00 m (or nearly 10 ft) above the waterline. I quickly discovered in Utrecht that we could not pass through certain fixed bridges and we had to modify our itinerary accordingly.
The next time, we selected a boat with a lower superstructure, and that opened up more cruising possibilities. (see picture below!)
However, the boat choice also needs to be balanced with other considerations.
Our friend, whom I mentioned in the introduction, did not have many boat choices. He made his reservation at the last minute. Once on the boat, he discovered that his 6′-5" frame did not fit well inside the cabin.
With pleasant, sunny weather and steering from the top, this may not have been much of a problem. But with the many rainy days he experienced, it certainly was.
He knows that few canal boats will accommodate his full height. But he'll pay even more attention to the bunk/bed size, which was inadequate this time and even sunny weather would not have helped!
Often the bunk length is not given on the charterer's website and you'll have to confirm it directly.
(By the way, cabin height and bunk length are especially limited on the British Narrow Boats, so you may want to verify those in particular.)
While inside steering is obviously a necessity during inclement weather, having an outside steering station is wonderful. You can enjoy the countryside as you slowly make your way through fields and forests.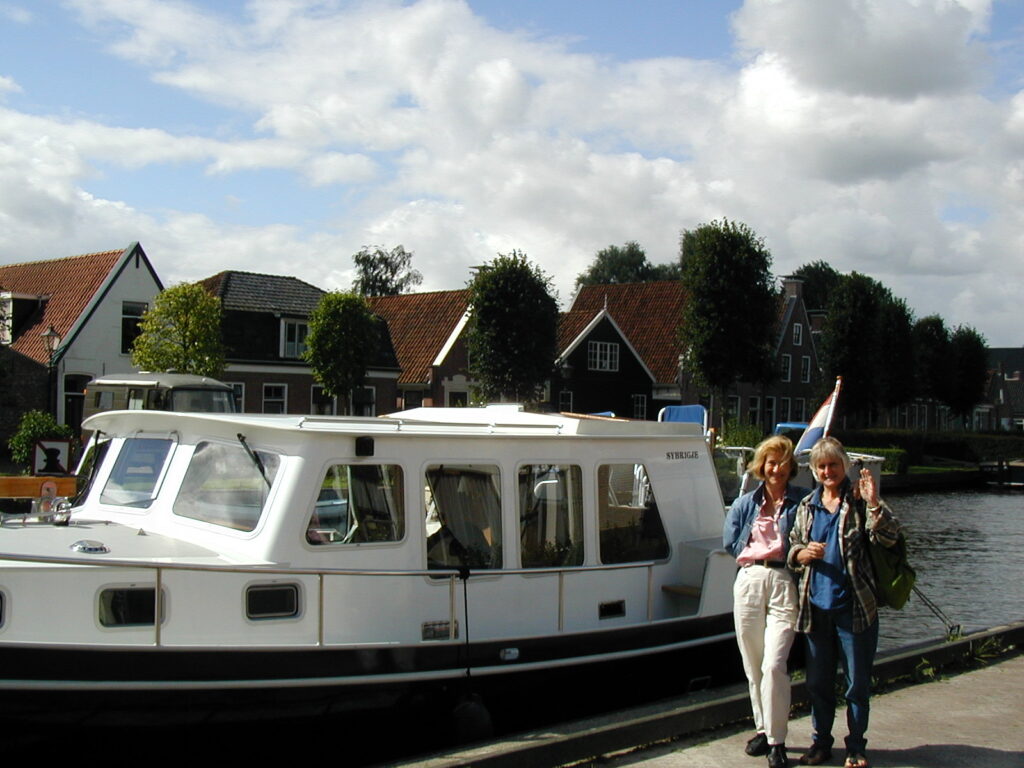 During a charter in France on the Loire (actually, the Canal Latéral à la Loire) a few years ago with friends, my wife Ulrike and the two other women would bike along the canal, or make quick excursions to nearby villages, while we two men would enjoy a beverage or two on the upper deck. We then would meet at a lock further downstream and everybody was happy. So, choosing a boat that would easily accommodate bikes was a real winner.
Canal boats have also greatly improved since we first started chartering. Indeed charter companies like Le Boat, Locaboat, and others, now incorporate the experiences and lessons learned in their own custom designs. Refrigeration, heating, electric toilets, bow thrusters, etc. are now standard on many vessels.
(I recently saw on the Nichols.com site that you can reserve "Le bateau green", an electric boat!)
Obviously, the size of the boat you'll want to charter will also depend on the size and composition of your crew: family only, good friends, social friends or a combination – all should impact the type of boat, the number and type of cabins to choose.
We've had good good experiences with Locaboat canal boat chartering in both France and the Netherlands. Using organizations such as Locaboat or Le Boat has advantages. They have organized the selection of boats, itineraries, payments, etc. quite well for the countries they service. Repeat cruisers will get discounts, etc.
In the Netherlands we have used local charter companies several times, e.g. P.A. v.d. Laan and Brakel (Friesland) and found that their prices were lower than those from the big names.
You can also read about our last trip in the Netherlands on European Travels 3: Dutch Language & Canal Boating.
Cruising Itineraries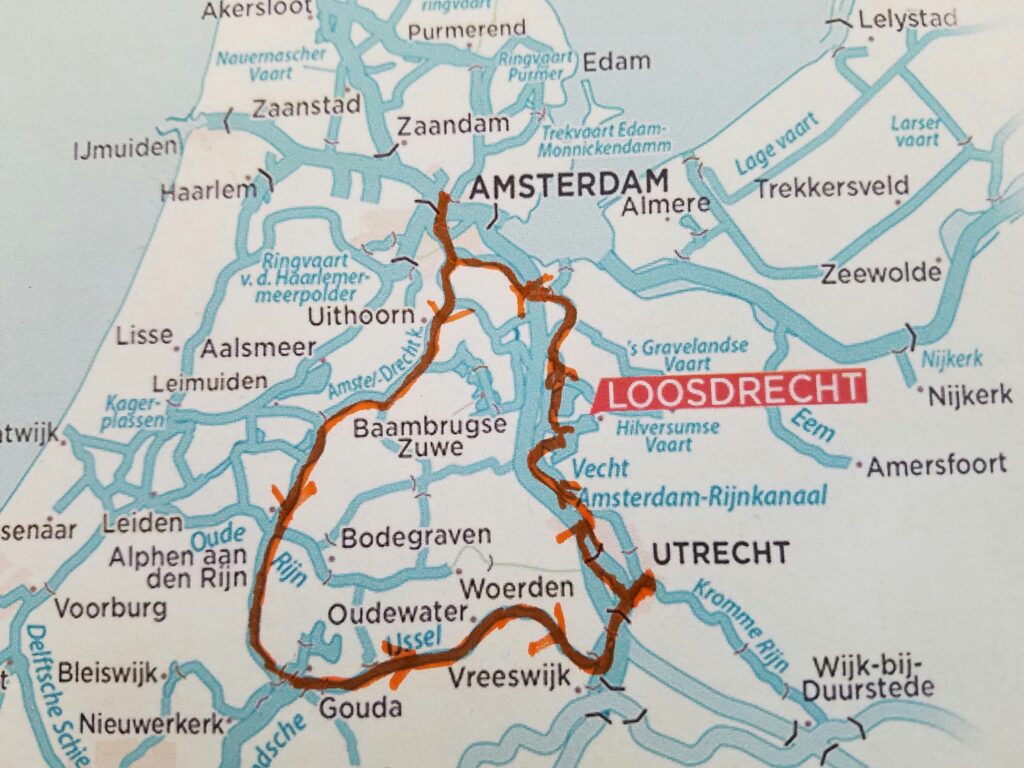 The charter companies' websites and brochures let you see the location of their base(s) and recommended itineraries. We often preferred round trips or selected one way routes, by which we would pick up the boat at one base and leave it at another. (This makes car travel logistics more difficult, unless the charter company can make arrangements – for a fee – to move your car to the next base.)
One important consideration of how many miles you can cover in a week or two, is the number of bridges or locks that have to open for you. On small canals you may indeed have to open bridges yourself. Though typically that doesn't take much time.
You will also have to take into account, however, that bridges in cities often don't open during morning, noon and afternoon rush hours. And sometimes, bridges have mechanical problems and don't open at all. You then either have to wait or look for alternate routes.
Most charter sites will give you the number of locks you have to pass on the recommended itineraries and the average daily travel time.
Locks, especially when they have to raise or lower you more than a few feet, take quite a bit more time and effort. You often have to wait for the lock to open or close, especially if it can accommodate more that one boat. Your crew needs to be able to adjust the lines that hold your vessel in place.
Other Cruising Considerations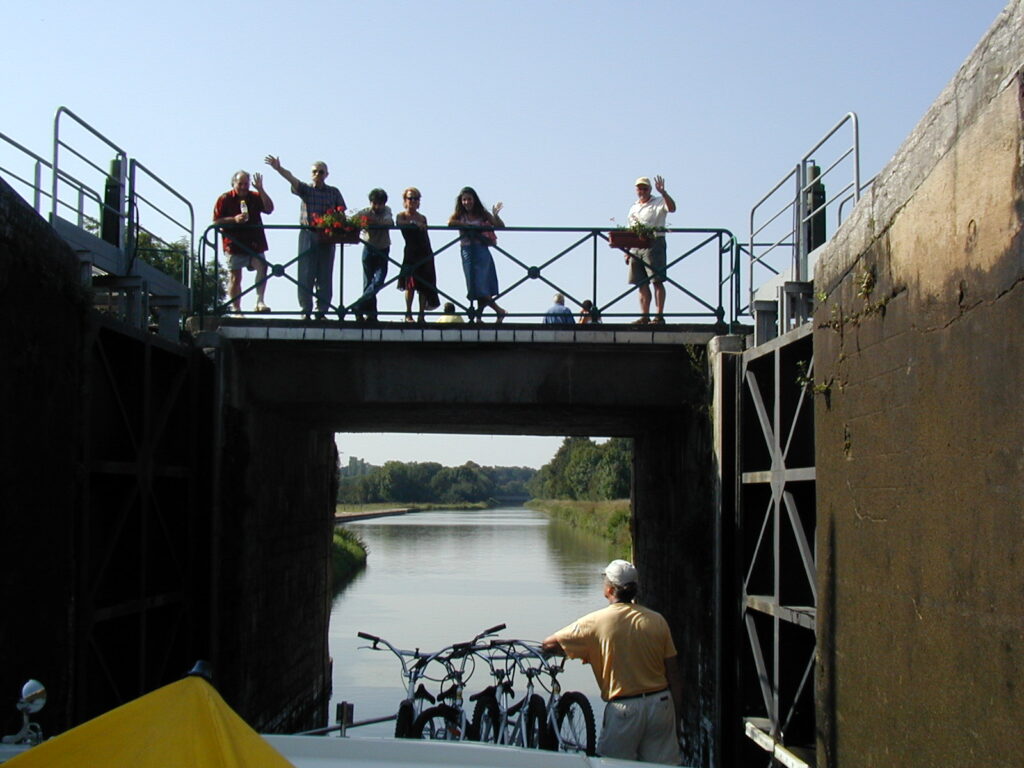 Since we chartered the first time 20 years ago in the Netherlands, we noticed that a few things have changed there – and I assume in other locations as well.
For example, instead of bridge tenders who opened bridges on demand in the past, we recently found signs on many unattended bridges that require you to call or operate an intercom. These are often located on a post near the bridge. Bridges now have cameras and are operated remotely. As Ulrike speaks fluent Dutch, reading instructions or calling did not present a problem for us. And while most Dutch people speak English quite well, deciphering Dutch instructions could be challenging at times if you are not familiar with the language.
In France there were fewer bridges that had to open, but more locks to pass through. Several times we encountered just one lock keeper who was responsible for several locks. He followed us on his bicycle to the next locks. Again, if you can't read the French description of the procedures or are unable to communicate in French, you may be at a disadvantage.
During one canal cruise on the Canal de Nivernais in early September, I remember chatting a lot in French with the young lock keepers, all students, whose summer jobs were just about to end. Our teenage son was eager to help the female student lock keepers, while also practicing his high school French.
Choosing the right boat and the best cruising itinerary for yourself and your crew requires a bit of research and planning when chartering a canal boat. If you plan a cruise for next year, you'll have the time to do so properly.
And even if you don't speak the language of the country, just knowing the greetings and polite phrases will be helpful as you pass locks and bridges. So pick your language on Lingo-Late or GamesforLanguage and use your time well!