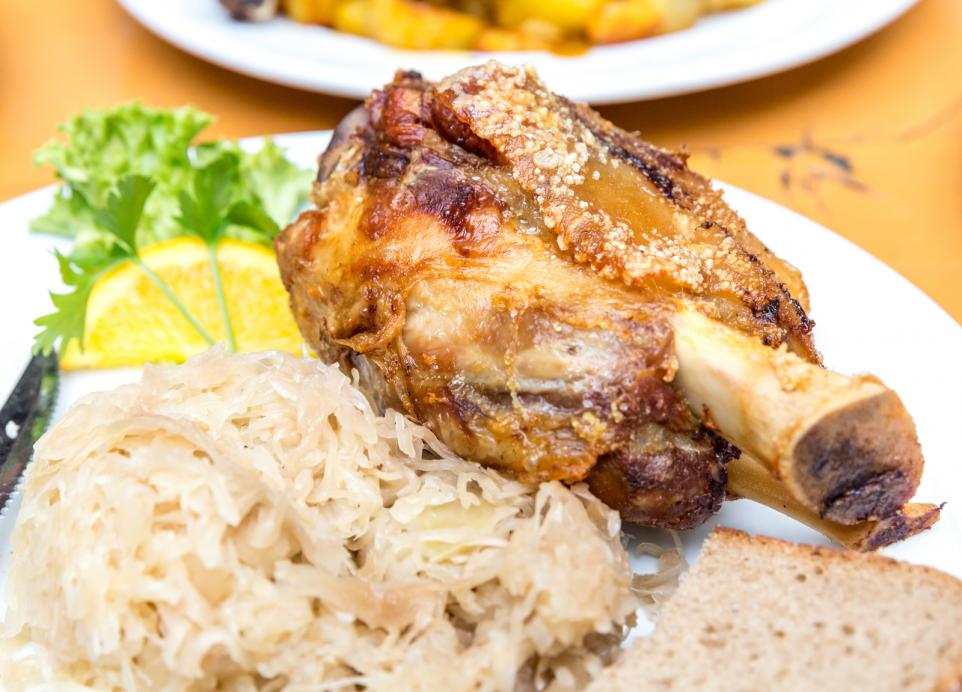 The Next 14 Phrases
You've learned to ask for and understand directions in German 3 For Travel. Now, you've found the restaurant you were looking for.
Unless you've chosen an expensive restaurant with a Maitre'D or Hostess, you can go ahead and seat yourself at an empty table.
Otherwise, you'll want to ask for a table, say for two people at the window.
In German-speaking countries, when the restaurant is crowded, it's quite acceptable to politely ask strangers whether you can join them at their table.
When the food for your neighbors at the table arrives, it's expected that you say to them: "Guten Appetit!" (Enjoy your meal.)
The waiter may ask you if you want to see "die Speisekarte" (the Menu), or you'll have to ask for it. Once you have the menu, you'll be faced with studying it and deciding what to order.
There are too many German dishes for us to list, and for you to learn and practice. There may be different menus for breakfast, lunch and dinner. And while German menus don't have a standard format, there are some categories that are worth knowing, especially for lunch and dinner.
As you won't have to pronounce the major menu headings, we'll just list some of them here below with their English translations.
> Die Speisekarte – The Menu
> Die Mittagskarte – The Lunch Menu
> Suppen – Soups
> Warme Vorspeisen – Warm Appetizers
> Vorspeisen und kleine Gerichte – Appetizers and small dishes
> Fleischgerichte – Meat dishes
> Rindfleisch – Beef
> Schweinefleisch – Pork
> Kalbfleisch – Veal
> Leber – Liver
> Nieren – Kidneys
> Gerichte aus Topf und Pfanne – Lit: Dishes from pot and pan
> Hauptgerichte – Main dishes
> Fischgerichte – Fish dishes
> Gerichte aus Wild und Geflügel – Dishes of game and poultry
> Vegetarische Gerichte – Vegetarian dishes
> Hausspezialitäten – Specialties of the House
> Nachspeisen – Desserts
> Tagesteller or Tagesgericht- Daily special
> Unser Seniorenangebot – Our offer to seniors
> Speisen für unsere kleinen Gäste – dishes for our little guests
Often pointing to the menu item you'd like and saying "Ich hätte gerne das" (I would like that), will work fine.
Or, if you're adventurous, and want to read the menu item, you could say: "Ich hätte gerne … e.g. das Wiener Schnitzel".
And if you don't remember how best to call the waiter to your table, raising one hand and pretending to write on it with the other, will usually get you the check.
The phrases below may help in some other situations in a restaurant.
And the picture below shows a typical German lunch menu in a good restaurant.

German Restaurant Culture
Especially for lunch, the "Tagesteller" or "Tagesgericht" is often a good deal. Sometimes and depending on the season, it may include soup, appetizer or dessert. However, it can also be a local specialty. So, unless you are a food adventurer, you may also want to find out more about it.
Be not surprised to find some specialties you're not familiar with in certain regions of Germany, e.g. liver or kidney dishes. So, asking for an explanation is often necessary and useful.
A few years ago, we were sitting in a restaurant in Berlin where "Eisbein" was listed as the daily special. Near us, two large steaming plates with "Eisbein" were being served to a Chinese couple.
Their eyes went wide and they did not know what to do with the plates of large pork-knuckles, potatoes and sauerkraut. (See a picture of the dish above.)
As there are many restaurants with specialties from other countries, you'll also find menu headings such as "Hors D'oeuvres ", "Antipasti", "Desserts", etc.
While credit cards are accepted in most restaurants, you'll still encounter some places in the countryside where credit cards are frowned upon.
While service charges are typically included in all restaurant prices, leaving a few Euros on the table for good service and saying a friendly "Auf Wiedersehen!" is always appreciated.
Looking for more "essentials"? Take a look at André Klein's 82 Essential German Travel Phrases And Words For Daily Survival or the Intrepid's Survival German Travel Phrase Guide with Pronunciation,